A friend of mine started posting "candles" on Facebook. Since most stories on Facebook were depressing (well except the cat stories) he wanted to add to the positive feelings. I figured I would steal this idea for here as well.
In a world today filled with violence and unacceptance of FTM, I was happy to see a great article in People magazine entitled:
Parents Write Newspaper Birth Announcement to Show Acceptance of Teen Transgender Son.
http://www.people.com/article/transgender-teen-parents-write-birth-announcement-retraction-australia-kai-bogert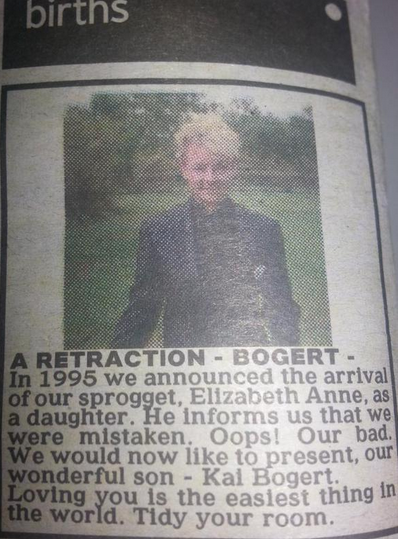 The article goes on to explain how the parents of this young man retracted the birth announcement from 20 years ago, saying they had made a mistake and had announced a girl, but in fact it was a boy.
I haven't seen this kind of acceptance as common yet. I am hoping it is a sign of things to come. Especially since Australia isn't known for being the most forward thinking society for LGBTA.
I realize it isn't a deep post today, but so often what I want to talk about are the problems, while today there was an example of the good that is out there. This made me really happy to read this morning. Hopefully I can find more like this.